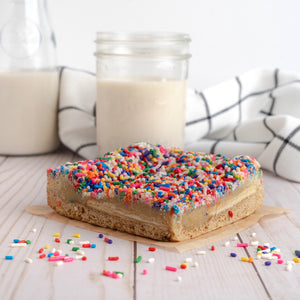 Buckeye Brownies
The Gift
Sale price Price $30.00 Regular price Unit price / per
She's simple, she's sweet and tastes much better than your average cupcake treat, introducing, The Gift.
This colorful dessert first starts with our soft blondie base which is then topped with a frosted cupcake toaster pastry.
To make this gift even sweeter, we then added a top layer of sugar cookie dough and loaded it up with rainbow sprinkles.
Let's just say this will be the only gift you'll be asking for during the next holiday!
*Processed in a facility that also works with peanuts, wheat, dairy, and soy.*
*If brownies are desired to arrive on a specific date, please order at least a week in advance due to the influx of orders.*
STORAGE INSTRUCTIONS:
Refrigerate upon arrival. Keep them in the refrigerator so they stay intact. You can either take them out and either eat cold or warm them up in the microwave for 5-10 seconds if you want them to taste as if they came right out of the oven.
Not planning on eating within 7 days upon arrival? Throw them in the freezer to ensure their moistness. Let them defrost when ready to be consumed.
My reward
I usually eat these after work and it taste so good. I need more in my life. The sugar cookie center is the best part honestly
Beyond my expectations!!
I saw an ad for Buckeye Brownies on Instagram so I went to their page and thought the brownies looked amazing but I didn't place an order. Then someone I follow on Instagram was trying them so I went to their website and saw The Gift. It sounded like the perfect treat for me because I typically don't eat chocolate (crazy I know) so I ordered a 4pack and I truly can't put into words how amazing they tasted. I also couldn't believe how quickly they shipped my order. If you're ever on the fence about ordering from Buckeye Brownies let this be your sign to order!!
The very best!
I am obsessed since I first tasted a sample at a bodybuilding competition several years ago. I order at least once a month and keep in my freezer to enjoy. I have a huge sweet teeth and these are my very favorite for a cheat meal.