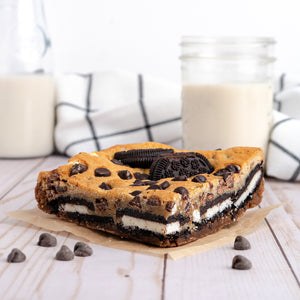 Buckeye Brownies
The MVP
Sale price Price $30.00 Regular price $0.00 Unit price / per
He's known for always putting the team on his back, bringing above and beyond effort day in and day out and always being able to put a smile on people's faces, meet The MVP.
This cookies and cream based brownie starts with our fudge brownie base which is then layered with chocolate creme sandwich cookies to give you a little crunch.
It is then topped with our homemade cookies and cream cookie dough infused with white chocolate and chocolate chips.
But we couldn't stop there, so we topped everything with some more cookies and chocolate chips to really express how valuable this bad boy really is.
He's not just a player, he's The MVP.
*Processed in a facility that also works with peanuts, wheat, dairy, and soy.*
*If brownies are desired to arrive on a specific date, please order at least a week in advance due to the influx of orders.*
STORAGE INSTRUCTIONS:
Refrigerate upon arrival. Keep them in the refrigerator so they stay intact. You can either take them out and either eat cold or warm them up in the microwave for 5-10 seconds if you want them to taste as if they came right out of the oven.
Not planning on eating within 7 days upon arrival? Throw them in the freezer to ensure their moistness. Let them defrost when ready to be consumed.
Best tasting brownie and cookies I've tasted. I'll definitely order from them again.
Too sweet
The sweetness over powers the brownie and it's topppings
Really expensive for a low to mid tasting brownie. I ate it in 4 separate attempts and it became a slog to eat towards the end of each square
MVP is really the MVP
The MVP Brownies are really great and it really lives up to the name. The package and the shipping was swift and overall this is a delicious brownies and can't wait to try other flavors.