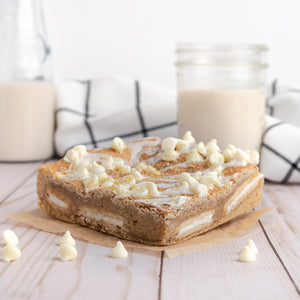 Buckeye Brownies
Snickerdoodle and Chill
Sale price Price $30.00 Regular price Unit price / per
Forget about Netflix and meet, Snickerdoodle and Chill, the only sweet treat that is guaranteed to end your night the way you predicted.
This beauty starts out with our buttery blondie base which is then blanketed with a layer of vanilla creme sandwich cookies.
We then topped it all with our homemade snickerdoodle cookie dough and baked it to perfection.
After the bake, we top this gem with some white chocolate chips, a cream cheese frosting drizzle and sprinkle some turbinado cane sugar to finish it off.
We can promise this will be the only thing you wanna dive into on those lonely nights.

*Processed in a facility that also works with peanuts, wheat, dairy, and soy.*
*If brownies are desired to arrive on a specific date, please order at least a week in advance due to the influx of orders.*
STORAGE INSTRUCTIONS:
Refrigerate upon arrival. Keep them in the refrigerator so they stay intact. You can either take them out and either eat cold or warm them up in the microwave for 5-10 seconds if you want them to taste as if they came right out of the oven.
Not planning on eating within 7 days upon arrival? Throw them in the freezer to ensure their moistness. Let them defrost when ready to be consumed.
Decent
They were okay. I froze them for a month like instructions said, and then thawed out when I wanted to eat. I wasn't a fan of the texture. They felt slimy in my mouth. :/
Oh so delicious
I had planned on taking them to my women's luncheon, nope, I have decided I am not sharing. :)
Repeat buyer
I'm embarrassed at the number of brownies I purchase on a monthly basis! I store them in my freezer and have them more than I should. Snickerdoodle is my favorite but I truly haven't tasted a single one that wasn't 5 stars!
Great Taste, Good Flavor, Not Very Sweet
3/5 due to lack of sweetness. Was hoping to bite into something more like a gooey butter type, but it tasted more dry than anything. I tried cold, room temp and heated up… all were about the same.
Snickerdoodle and ehhh
It wasn't as sweet as I thought it was going and it kinda underwhelmed me. Don't get me wrong it's still an excellent brownie; it's just as weird and funny as it may sound it just wasn't snickerdoodle-y enough for me.